Description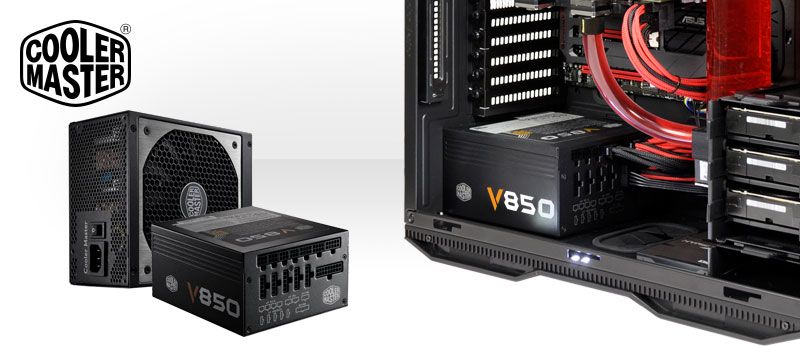 THE GOLD STANDARD
Cooler Master has developed the V-Series to reassert its position as the world's top power supply brand. Based on a new platform, V-Series Power Supplies feature outstanding efficiency (especially at typical low idle loads), excellent hold up times, voltage stability, and ripple suppression. In some cases, V-Series PSUs have been shown to surpass even Platinum level testing. Only the highest grade Japanese capacitors are used, most of which are solid capacitors, as well as a massive high quality 42mm transformer.
HIGHLIGHTS
LESS CABLE. LESS CLUTTER.

Featuring a design that allows you to only connect cables that your system needs. Fewer cables mean less mess and better airflow inside your case.

QUALITY YOU CAN SEE

Featuring high quality Japanese capacitors for many benefits, including increased longevity, reduced ripple and electrical instabilities, and better efficiency and protection.
SILENT, LONG-LASTING FAN

A 135mm Fluid Dynamic Bearing (FDB) fan helps keep internals running cool. A thin film of oil constantly separates the metal components of the bearing structure, resulting in extremely quiet fan operation and longevity.

EFFICIENCY

Efficiency certification with up to 90% efficiency at 50% load saves you money on your electricity bill.
ADDITIONAL PRODUCT FEATURES
Hexagonal vents allow excellent airflow
Cable Storage Bag
POWER CHART

Powerful single +12V rail provides superior load balancing and graphics card compatibility.

COVERAGE

Parts, product replacement, and free technical support.
WHICH PSU IS RIGHT FOR YOU?

 

V850

V1000

V1200

Dimensions
(L x W x H)
5.9 x 6.7 x 3.4 in.
(150 x 170 x 86mm)
5.9 x 6.7 x 3.4 in.
(150 x 170 x 86mm)
5.9 x 7.5 x 3.4 in.
(150 x 190 x 86mm)
Cabling
Fully Modular
Fully Modular
Fully Modular
Available Wattages
850
1000
1200
80 PLUS Certification
Gold
Gold
Platinum
Efficiency (Typical Load)
Up to 90%
Up to 90%
Up to 93%
Hybrid Fan Controller
None
None
?